After reading the following story I was once again struck by the fact that fire departments have an obligation to do more than just put out fires. Fire prevention and fire safety instruction are as much a part of what we do as fire suppression and are maybe even more important in the long run.
A Flash Fire and Its Longer Aftermath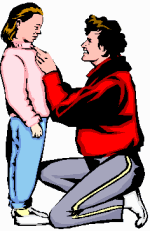 "Eight-year-old Susan and her older brother are playing in their garage. An unsealed can of gasoline tips over and, an instant later, the pilot light of the nearby water heater ignites the vapor. In the flash fire and explosion, Susan's face and arms are badly burned, her dress set afire. She is rushed to a local emergency room, where she is treated for shock. Because the burns are extensive and predominantly third degree (the most severe kind), the doctors arrange for her admission to a burn center, 100 miles away.
"There, intensive care begins. The wounds are cleaned and treated with antibacterial agents; intravenous lines are inserted; and a catheter is placed into the bladder to collect urine, which serves as a guide to the fluid needs of the body. Nurses in the intensive care unit keep a close watch, lest she go into shock or turn blue from smoke inhalation injury. Later she is anesthetized and wheeled into surgery, where a doctor begins debridement, the cutting away of burned tissue. The wounds are covered with antibiotic dressing, and Susan is given penicillin to ward off infection.
"More debridement operations follow. Doctors and nurses continue to monitor closely Susan's fluid management and the functioning of her vital organs. On the third day, having survived the acute phase in which fluid imbalances can be fatal, Susan is taking fluid by the mouth, and the intravenous lines are removed. For the first time, she complains of pain from her wounds.
On the seventh day there is a marked change in Susan. She refuses food, she is truly unruly. But the staff members have seen this kind of behavior often, for it signals the onset of guilt or fear of parental reaction about the accident. After conferring with the staff, Susan's parents discuss the accident, assuring her they were concerned but not angry. Her mood brightens. Having less than the normal amount of skin is a depressing condition, and it is common for patients to be difficult, irascible, or complaining until the wounds heal or are successfully skin-grafted.
"During the second and third weeks, operations are performed to remove further dead skin. As so often happens, the wounds become infected and for a time her life is in jeopardy. In the fourth week grafting operations begin -- four in all, stage at 10-day intervals. Between operations, Susan undergoes intensive physical therapy, since grafted skin tends to contract and hamper the body's movements. Despite all precautions, contractures of her neck, right wrist, and right hand begin to develop, drawing her chin toward her chest, her wrist backward, and her fingers out of joint. Though Susan is discharged after 80 hospital days, the deformities already developing grow worse, despite frequent physical therapy and splinting. She is readmitted twice during the ensuing 4 months for reconstructive surgery.
"More plastic surgery awaits her. It will never totally erase the scars. And despite the efforts of the psychiatrist on the burn center staff, Susan still carries psychological scars."
- from America Burning, The Report of The National Commission on Fire Prevention and Control.